Post by strangewayz on Jun 3, 2014 0:27:05 GMT

You may want to use an extender on the clutch cable to get a better angle on the clutch arm....
or maybe cut and shut the arm in a trick Strangeway'z ..

Hey Clive !
Funny you should say that as put the extender on it yesterday & didn't like how it looked so I ground a bit off the clutch lever perch to win a bit of cable & set it up without. I did think about the angle but was telling myself that as it was approx 90 degs it would be ok...?
You'd like to see it a bit more in line with the engine casing faces ?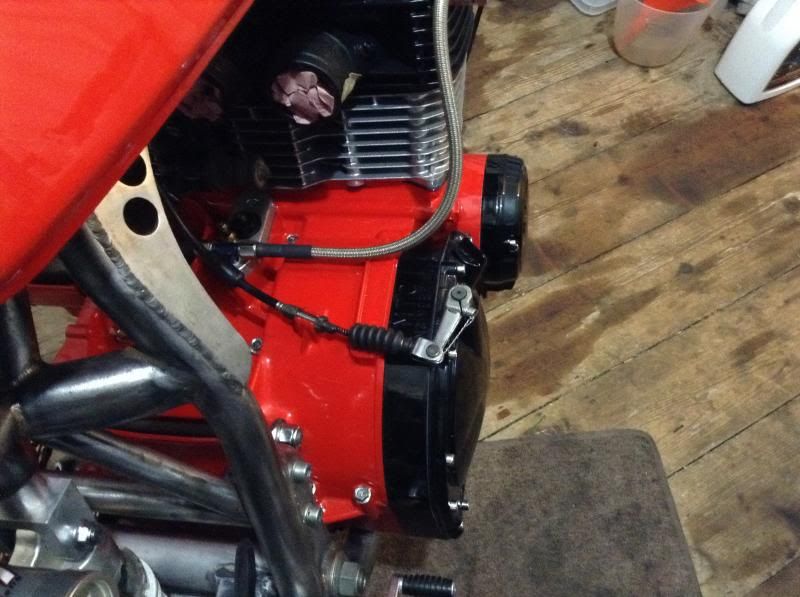 Been busy today, the carbs would have been on but the adjuster end at the carbs for the 'push' cable had been bodged, being a separate piece that had been riveted on, badly as well... Frustrating because I just wanted to get the carbs on & concentrate on the wiring.
I was having a bit of fun with the engine earth lead above but actually made up 2 other cables like that as well, I'd put a threaded socket on the frame tube near the battery so looped a cable from that to the battery - & run a longer cable from the starter motor up the back of the block (in a heat protected sleeve) all the way along the top of the subframe to the starter solenoid in the tail piece.
Got all the parts of the stock EFE loom identified but need to cut into it to extended & move sections of it around as I have no stock lower subframe tubes & no side panels.
The other day I got an early Slabby 750 ignition & key because the 750ET one that I had planned to use felt to notchy & probably 1 in 3 times the key would not turn. Started to alter slightly the top yolk to mount it.
All these small issues (re building brakes, carb cable adjusters, switching ignitions etc) are killing my time, yeah for sure I could throw the loom on & be get the motor running but as I am on holiday from work I'd want to build it properly even if that means (as looks likely) that I won't get over to the TT for a few days. The Senior is on Friday so if by chance this was running & mot'd by Thursday then I would go over then & ride back Sunday.
Which means I would need to pretty much finish the wiring Tues & play with the motor Weds & I think there is too much work on the wiring, but I'll keep throwing hours at it, almost 1.30 am now !! Time to sleep for a few hours, then sort the carb bracket out as it got to late to grind & make noise this evening.